Activation Details
---
Instant email delivery
Digital orders are processed automatically 24/7 and arrive by email in 5 minutes or less.
##ACTIVATION_RESULT## be activated in ##ACTIVATION_COUNTRY##
This is a region free product which means there are no restrictions on where it can be activated.
Redeem on Xbox one
This product requires an Xbox one account to use.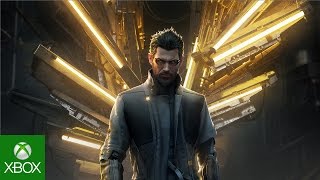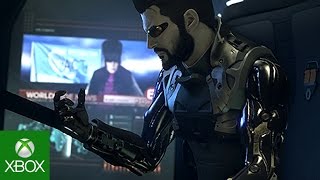 About this game
---
The year is 2029, and mechanically augmented humans have now been deemed outcasts, living a life of complete and total segregation from the rest of society.
Now an experienced covert operative, Adam Jensen is forced to operate in a world that has grown to despise his kind. Armed with a new arsenal of state-of-the-art weapons and augmentations, he must choose the right approach, along with who to trust, in order to unravel a vast worldwide conspiracy.
HDR enhanced for richer, more luminous colors.**
Key Features
Human 2.0

Choose from an array of cutting edge weapons and augmentations, customizing them to fit your playstyle.

In the Near Future, Mankind Stands Divided

Discover a near future setting where humanity's fate hangs in the balance.

Meaningful Choices and Consequences

The decisions you make play a crucial role in determining the game's outcome.

New Game Mode

Deus Ex: Mankind Divided – Breach is a live game mode, introducing a puzzle arcade approach on gameplay.
**HDR functionality available on Xbox One S with supported games and TVs.
---

Deus Ex: Mankind Divided provides a rewarding single-player experience coupled with varied gameplay that will provide you many hours of gaming, especially if you take the time to fully explore the environment.

---
---
Once you receive the activation code it can be redeemed on your Xbox One console.
Redeem using your Xbox One console:
Open the Home menu on your Xbox One console.
Press RB four times to arrive at the Store tab.
Select the Use a code tile.
Enter your 25-character code using the on-screen keyboard.
Press the Menu button.
Select Confirm to add the product to your account.
If that method does not work for you please follow the instructions below to redeem the code on xbox.com.
Go to: https://www.xbox.com.
Login with your account (create an account if you don't already have one).
Once you've logged in, select 'Redeem Code' from the account menu (top right of screen) or go to: https://redeem.microsoft.com/enter?ref=xboxcom.
A page should load with an area to redeem your code, enter your code in the textbox.
Click 'Next' after entering your code.
Click 'Confirm' to add the game to your account.
Deus Ex: Mankind Divided © 2016 Square Enix Ltd. All rights reserved. Developed by Eidos-Montréal. Deus Ex: Mankind Divided, Eidos-Montréal, and the Eidos logo are trademarks or registered trademarks of Square Enix Ltd. SQUARE ENIX and the SQUARE ENIX logo are registered trademarks of Square Enix Holdings Co. Ltd. All other trademarks are property of their respective owners.