Bully: Scholarship Edition
Activation Details
---
Instant email delivery
Digital orders are processed automatically 24/7 and arrive by email in 5 minutes or less.
##ACTIVATION_RESULT## be activated in ##ACTIVATION_COUNTRY##
This is a region free product which means there are no restrictions on where it can be activated.
Redeem on Rockstar
This product requires a Rockstar account to use.
Age Ratings
---
Animated Blood
Crude Humor
Language
Sexual Themes
Use of Alcohol and Tobacco
Violence
No Interactive Elements
Moderate Themes
Violence
Sexual References
Metacritic Reviews
---
GameStar
Should you ever be asked why video games are a cultural asset, show them Bully.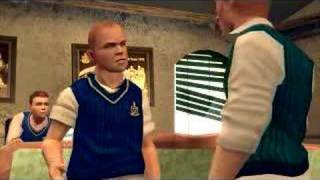 About this game
---
The Rockstar tradition of groundbreaking, original gameplay and humorous tongue-in-cheek storytelling invades an entirely new setting: the schoolyard.
As a mischievous schoolboy, you'll stand up to bullies, get picked on by teachers, play pranks, win or lose the girl, and ultimately learn to navigate the obstacles of the worst school around, Bullworth Academy - a corrupt and crumbling prep school with an uptight facade.
The story follows Jimmy Hopkins, a teenager who's been expelled from every school he's ever attended. Left to fend for himself after his mother abandons him at Bullworth to go on her fifth honeymoon, Jimmy has a whole year at Bullworth ahead of him, working his way up the social ladder of this demented institution of supposed learning, standing up for what he thinks is right and taking on the liars, cheats and snobs who are the most popular members of the student body and faculty. If Jimmy can survive the school year and outsmart his rivals, he could rule the school.
Key Features
Bully: Scholarship Edition

Features all the mayhem, pranks, nerds, jocks, crushes, clueless professors and despotic administration that made the original release great, plus added classes and missions.

Huge variety of fun

With 82 missions, 45 lessons, loads of mini-games and collectibles, Bully provides over 30 hours of entertainment.

Pranks galore

Spread the mischief. Use your slingshot to annoy the school mascot, give the preppies wedgies, leave a stink bomb in the cheerleader's locker, trip the prefects on well-placed marbles, drop firecrackers in the toilets, and own the school.

The school experience

Over 100 voiced characters to socially interact with among several social groups: jocks, nerds, preppies, greasers, teachers, townies, carnies, and of course, girls.

Your choice

You're in charge. Decide whether you have a positive or negative effect when interacting or accepting missions. Say hello to fellow classmates or deliver mean wedgies. Decide which girls you want to kiss, or what classes to skip.
---

The port definitely could've been handled better, but the game is still an enjoyable romp that shouldn't be missed.

---
---
OS:
Windows XP / Windows Vista
Processor:
Intel Pentium 4 (3+ GHZ) / AMD Athlon 3000+
Storage:
4.7 GB free space
Graphics:
DirectX 9.0c Shader 3.0 supported, Nvidia 6800 or 7300 or better, ATI Radeon X1300 or better
Input:
Keyboard, Mouse, Xbox 360 Controller supported
---
Once you receive the activation key it can then be redeemed on Rockstar Social Club to validate and begin downloading. Please follow the instructions below if you need help with activating a product on Rockstar.
Download the Rockstar Games Launcher.
Sign in to your Social Club account or create a new one.
Go to 'Store' and click on 'Redeem Code'.
Enter your code.
The content of this videogame is purely fictional, and is not intended to represent or depict any actual event, person, or entity. The makers and publishers of this videogame do not in any way endorse, condone or encourage engaging in any conduct depicted in this videogame. Unauthorized copying, reverse engineering, transmission, public performance, rental, pay for play, or circumvention of copy protection is strictly prohibited. Rockstar Games 622 Broadway, New York, NY 10012 © 2005-2013 Rockstar Games, Inc. Rockstar Games, the Rockstar Games , Bully, Bully: Scholarship Edition, Take-Two Interactive and their respective logos are trademarks and/or registered trademarks of Take-Two Interactive Software, Inc. in the U.S.A. and/or foreign countries. The ratings icon(s) and all other marks and trademarks are properties of their respective owners. All Rights Reserved. Portions of this software are included under license ©2007 Emergent Game Technologies, Inc.