Battlefield V Deluxe Edition
Activation Details
---
Instant email delivery
Digital orders are processed automatically 24/7 and arrive by email in 5 minutes or less.
##ACTIVATION_RESULT## be activated in ##ACTIVATION_COUNTRY##
This is a region free product which means there are no restrictions on where it can be activated.
Redeem on Xbox one
This product requires an Xbox one account to use.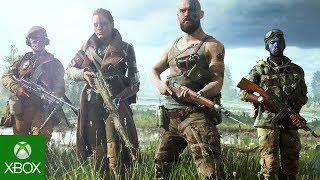 About this game
---
Enter mankind's greatest conflict with Battlefield™ V as the series goes back to its roots in a never-before-seen portrayal of World War 2.
The best way to join Battlefield™ V. Experience WW2 as you've never seen it before with a vast arsenal, including a catch-up of all weapons and vehicles delivered across year one of the Battlefield™ V Tides of War Chapters. Stand out on the battlefield with the most popular weapon and vehicle skins released during the year and customize your Company with two Epic soldier outfits.
Deluxe Edition Includes
Battlefield™ V base game

Five Sets of Paratrooper Outfits

Special Assignments and Starter Assignments – test your skills on the battlefield and gain rewards

20 Weekly customization items with Airlift
Key Features
World War 2 as you've never seen it before

Take the fight to unexpected but crucial moments of the war, as Battlefield goes back to where it all began.

64-player multiplayer in dynamic all-out war

Lead your Company in all-out multiplayer with new experiences like the massive Grand Operations. Take on classic modes like Conquest or squad up with friends in the cooperative Combined Arms.

The most physical Battlefield yet

Maneuver through the battlefield using a new soldier move set, fortifications, and mobile tools of destruction.

Play untold War Stories

Witness human drama set against global combat in the single player War Stories. Ski down Norwegian mountains as you battle for control of nuclear weapon supply lines or go behind enemy lines in North Africa with a band of misfits sent to create mayhem.

Tides of War

Beginning with the Fall of Europe, then taking you further into WW2, the Tides of War make Battlefield™ V a continuing journey with new fronts and rewards always on the horizon.
---

While many players can't get past the female content in the game they're definitely missing out on a great Battlefield experience. We love the new squad revive and attrition mechanics, a definite must play.

---
---
Once you receive the activation code it can be redeemed on your Xbox One console.
Redeem using your Xbox One console:
Open the Home menu on your Xbox One console.
Press RB four times to arrive at the Store tab.
Select the Use a code tile.
Enter your 25-character code using the on-screen keyboard.
Press the Menu button.
Select Confirm to add the product to your account.
If that method does not work for you please follow the instructions below to redeem the code on xbox.com.
Go to: https://www.xbox.com.
Login with your account (create an account if you don't already have one).
Once you've logged in, select 'Redeem Code' from the account menu (top right of screen) or go to: https://redeem.microsoft.com/enter?ref=xboxcom.
A page should load with an area to redeem your code, enter your code in the textbox.
Click 'Next' after entering your code.
Click 'Confirm' to add the game to your account.
CONDITIONS AND RESTRICTIONS APPLY. SEE WWW.EA.COM/LEGAL FOR DETAILS. REFERENCE TO A PARTICULAR MAKE, MODEL, MANUFACTURER, AND/OR VERSION OF WEAPON, GEAR OR VEHICLE IS FOR HISTORICAL ACCURACY ONLY AND DOES NOT INDICATE ANY SPONSORSHIP OR ENDORSEMENT OF ANY TRADEMARK OWNER.