Activation Details
---
Instant email delivery
Digital orders are processed automatically 24/7 and arrive by email in 5 minutes or less.
##ACTIVATION_RESULT## be activated in ##ACTIVATION_COUNTRY##
This is a region exclusive product which means it can ONLY be activated in the following regions: CANADA, UNITED STATES
Redeem on Ps4
This product requires a Ps4 account to use.
Game Information
---
Languages:

---

Interface

Audio

Subtitles
Age Ratings
---
Blood
Strong Language
Violence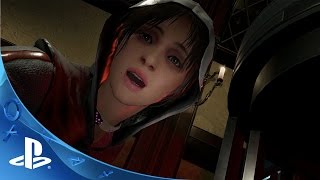 About this game
---
You receive a call from Hope, a woman trapped inside a mysterious totalitarian state. Hacking into an elaborate surveillance network, you guide Hope through a web of danger and deception across five thrilling episodes.
Developed over five years by industry veterans (Metal Gear Solid 4, Halo 4, Middle-earth: Shadow of Mordor, F.E.A.R., SOCOM), Republique is a thrilling and topical adventure that explores the perils of government surveillance in the internet age.
Key Features
Remade for the PS4

The game has been remastered in Unity 5 for PlayStation 4. "One Touch" stealth action gameplay reimagined for the Dualshock 4 – take control of Hope like never before.

Rich Gameplay

Immersive puzzles and strategic choices await the player.

Innovative, Interactive Developer Commentary

Eavesdrop on conversations recorded during the making of the game.

Incredible Voiceover Performances

The game includes a stellar cast of voice actors, including Rena Strober, David Hayter (Metal Gear Solid), Jennifer Hale (Mass Effect, Bioshock Infinite), Dwight Schultz (killer7, Star Trek), Khary Payton (Metal Gear Solid 4), John Kassir (Tales From the Crypt, Bayonetta 2).
---

Republique introduces some unique gameplay aspects and pairs them with very polished graphics and animation. If you enjoy stealthy adventure games you'll want to check it out.

---
---
Once you receive the activation code it can be redeemed on your PlayStation 4 console.
Redeem using your PS4 console:
Login to your PSN account on your PS4 or create a new PSN account if you don't have one.
Select the Playstation Store icon from the main menu.
On the Playstation Store, under the menu, select 'Redeem a code'.
Enter the code you received from PJ's Games.
Once the code is entered, select 'Continue'.
You can then download the game by selecting 'Download'.
© 2013-2016 Camouflaj, LLC. © GungHo Online Entertainment, Inc. All Rights Reserved. République is a trademark of Camouflaj, LLC.