Activation Details
---
Instant email delivery
Digital orders are processed automatically 24/7 and arrive by email in 5 minutes or less.
##ACTIVATION_RESULT## be activated in ##ACTIVATION_COUNTRY##
This is a region free product which means there are no restrictions on where it can be activated.
Redeem on Xbox-live
This product requires an Xbox-live account to use.
Game Information
---
Platform:

Xbox Live

Runs On:

PC

Publisher:

Xbox Game Studios

Release:

2019

Features:

Single player
Xbox Live online multiplayer (2-10)
Xbox Live cross-platform multiplayer
Xbox Live local co-op (2-3)
Xbox Live online co-op (2-5)
Xbox Live cross-platform co-op
Shared/Split screen
HDR10
4K Ultra HD
Variable Refresh Rate
Xbox Live achievements
Xbox Live presence
Xbox Live cloud saves
Xbox Play Anywhere
Xbox One X Enhanced

Region:

Global
Age Ratings
---
Mature (Blood and Gore, Strong Language, Intense Violence)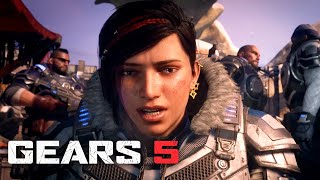 About this game
---
From one of gaming's most acclaimed sagas, Gears is bigger than ever, with five thrilling modes and the deepest campaign yet.*
Campaign: The world is crumbling. The Swarm has corrupted the Coalition's robot army and is descending upon human cities. With danger closing in, Kait Diaz breaks away to uncover her connection to the enemy and discovers the true danger to Sera – herself.
Escape: Outrun the bomb, outsmart the Swarm, and escape the Hive! Escape is a new, aggressive, high-stakes co-op mode featuring a three-player suicide squad that must work together to take out enemy hives from within.
Versus: May the best team win! Rack up points and trade up for superior weapons in Arcade, a frenetic playlist built for jump-in, over-the-top fun. With ten other game types plus new and classic maps, Versus rewards every competitive style, from casual to pro.
Horde: Can you and four friends endure waves of ever-stronger enemies and bosses? Survive using new hero abilities, building defenses, collecting power, leveling up your skills and working as a team.
Map Builder: Create custom Escape hive maps and experiences to share with and challenge your friends.
Key Features
Three-player Campaign Co-op

Battle alongside your friends in three-player online or split-screen co-op.

Tours of Duty

Rank up from new recruit to four-star general in Gears Tours of Duty. Take on new and exciting challenges, earn awesome rewards, and show off your loot.

Boot Camp

New to Gears or just a little rusty? Bootcamp is a fun way to learn the ropes, from the basics to advanced combat techniques.

Play as Jack

Play as Jack, your personal flying support bot that can protect allies and damage enemies - perfect for players new to Gears.

Visual Showcase

Play every mode in 4K and HDR at a smooth 60 frames per second on Xbox One X.

Accessibility

Customize your gaming experience with updated accessibility features, including: full controller remapping, single stick movement, Adaptive Controller support, narrated UI and menus, improved subtitles and more.
*Some modes including Escape, Versus and Horde, and online multiplayer require Xbox Live Gold on console, membership sold separately.
---

This feels like a definite step forward in the series and it looks and sounds great as well. Stepping into the Gears universe is always a treat and this game delivers on that in spades.

---
---
OS:
Windows 10 version 18362.0 or higher, Xbox One
Processor:
x64-compatible AMD FX-6000 series or Intel i3 Skylake
Graphics:
AMD Radeon R9 280 or NVIDIA GeForce GTX 760 with 2GB memory
DirectX:
DirectX 12 API, Hardware Feature Level 11
Note:
Integrated Keyboard and Mouse
OS:
Windows 10 version 18362.0 or higher, Xbox One
Processor:
x64-compatible AMD Ryzen 3 or Intel i5 Skylake
Graphics:
AMD Radeon RX 570 or NVIDIA GeForce GTX 970 with 4GB memory
DirectX:
DirectX 12 API, Hardware Feature Level 11
Note:
Integrated Keyboard and Mouse
---
Once you receive the activation code it can then be redeemed using the Microsoft store app on your Windows 10 PC. Please follow the instructions below if you need help with redeeming the code.
Open up the Microsoft Store App on your Windows 10 PC.
Click the 3 dots on the top right corner of the application.
Select 'Redeem a Code'.
Enter the code you received in your activation email and follow the prompts to activate.
© 2019 Microsoft. All rights reserved.