Activation Details
---
Instant email delivery
Digital orders are processed automatically 24/7 and arrive by email in 5 minutes or less.
##ACTIVATION_RESULT## be activated in ##ACTIVATION_COUNTRY##
This is a region free product which means there are no restrictions on where it can be activated.
Redeem on Steam
This product requires a Steam account to use.
30,950
Current Players
updated daily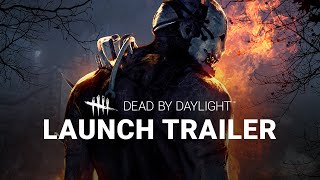 About this game
---
Death Is Not an Escape.
Dead by Daylight is a multiplayer (4vs1) horror game where one player takes on the role of the savage Killer, and the other four players play as Survivors, trying to escape the Killer and avoid being caught, tortured and killed.
Survivors play in third-person and have the advantage of better situational awareness. The Killer plays in first-person and is more focused on their prey.
The Survivors' goal in each encounter is to escape the Killing Ground without getting caught by the Killer - something that sounds easier than it is, especially when the environment changes every time you play.
Key Features
Survive Together... Or Not

Survivors can either cooperate with the others or be selfish. Your chance of survival will vary depending on whether you work together as a team or if you go at it alone. Will you be able to outwit the Killer and escape their Killing Ground?

Where Am I?

Each level is procedurally generated, so you'll never know what to expect. Random spawn points mean you will never feel safe as the world and its danger change every time you play.

A Feast for Killers

Dead by Daylight draws from all corners of the horror world. As a Killer you can play as anything from a powerful Slasher to terrifying paranormal entities. Familiarize yourself with your Killing Grounds and master each Killer's unique power to be able to hunt, catch and sacrifice your victims.

Deeper and Deeper

Each Killer and Survivor has their own deep progression system and plenty of unlockables that can be customized to fit your own personal strategy. Experience, skills and understanding of the environment are key to being able to hunt or outwit the Killer.

Real People, Real Fear

The procedural levels and real human reactions to pure horror makes each game session an unexpected scenario. You will never be able to tell how it's going to turn out. Ambience, music, and chilling environments combine into a terrifying experience. With enough time, you might even discover what's hiding in the fog.
---

Dead by Daylight is a great take on the cat and mouse premise and a lot of fun to play with friends. The community can be a little hard on new players though.

---
---
Requires a 64-bit processor and operating system
OS:
64-bit Operating Systems (Windows 7, Windows 8.1)
Processor:
Intel Core i3-4170 or AMD FX-8120
Graphics:
DX11 Compatible GeForce GTX 460 1GB or AMD HD 6850 1GB
Storage:
25 GB available space
Network:
Broadband Internet connection
Note:
With these requirements, it is recommended that the game is played on Low quality settings.
Requires a 64-bit processor and operating system
OS:
64-bit Operating Systems (Windows 7, Windows 8.1 or above)
Processor:
Intel Core i3-4170 or AMD FX-8300 or higher
Graphics:
DX11 Compatible GeForce 760 or AMD HD 8800 or higher with 4GB of RAM
Storage:
25 GB available space
Network:
Broadband Internet connection
---
Once you receive the activation key it can then be redeemed on Steam to add it to your game library and begin downloading. Please follow the instructions below if you need help with activating a product on Steam.
If you already have Steam installed and have a Steam account you can jump to Step 3.
Go to: http://store.steampowered.com/about/ and download the correct STEAM client for your computer/operating system.
After download, install Steam and login with your Steam account (create an account if you don't already have one).
Make sure Steam is running and you're logged in with your Steam account.
Click the Games Menu.
Choose Activate a Product on Steam...
Follow the onscreen instructions to complete the process.
After successful code verification the game will be added to your Steam game library. To view it go to the "Library" tab and it should be listed in the left-side menu (might require scrolling).
© 2015-2020 Behaviour Interactive Inc. All rights reserved. BEHAVIOUR®, DEAD BY DAYLIGHT® and their respective logos are registered trademarks of Behaviour Interactive Inc. in Canada, the United States of America and/or other countries. All other trademarks are properties of their respective owners.