Activation Details
---
Instant email delivery
Digital orders are processed automatically 24/7 and arrive by email in 5 minutes or less.
##ACTIVATION_RESULT## be activated in ##ACTIVATION_COUNTRY##
This is a region exclusive product which means it can ONLY be activated in the following regions: CANADA, UNITED STATES
Redeem on Ps4
This product requires a Ps4 account to use.
Game Information
---
Languages:

---

Interface

Audio

Subtitles
Age Ratings
---
Alcohol Reference
Blood
Mild Language
Violence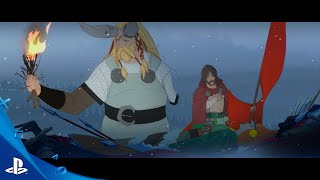 About this game
---
Banner Saga 2 continues the award-winning adventure! This role-playing, story-based adventure continues its emotional journey through a broken world. Your Viking clans will survive by making bold leadership decisions, wise resource use, and skilled battle tactics. You can either continue playing the game with your previous choices, or start a new game with preset characters.
The world is falling around you and there is only one hope. To get there, strong leadership, hard work, influence new heroes and a sound strategy in combat will be required.
New Characters and a New Race, the Horseborn.
Improved Strategic Combat with Consequences - Better, more strategic battle boards improve combat. Permanent loss of characters will also weigh heavily on your mind long after battle is over.
The journey is as important as battle - Your role in managing and building your caravan is crucial as you traverse the vast landscape.
---

The Banner Saga 2 is a solid tactical RPG and can hold its own with some of the finest in the genre.

---
---
Once you receive the activation code it can be redeemed on your PlayStation 4 console.
Redeem using your PS4 console:
Login to your PSN account on your PS4 or create a new PSN account if you don't have one.
Select the Playstation Store icon from the main menu.
On the Playstation Store, under the menu, select 'Redeem a code'.
Enter the code you received from PJ's Games.
Once the code is entered, select 'Continue'.
You can then download the game by selecting 'Download'.
© 2016 The Banner Saga © 2016 Versus Evil, LLC. Versus Evil and the Versus Evil logo are trademarks of Versus Evil LLC. All rights reserved. All other logos and trademarks are property of their respective owners.