Activation Details
---
Instant email delivery
Digital orders are processed automatically 24/7 and arrive by email in 5 minutes or less.
##ACTIVATION_RESULT## be activated in ##ACTIVATION_COUNTRY##
This is a region free product which means there are no restrictions on where it can be activated.
Redeem on Bethesda
This product requires a Bethesda account to use.
34
Current Players
updated daily
Age Ratings
---
Blood and Gore
Intense Violence
Strong Language
Suggestive Themes
In-Game Purchases
Violence
Bad Language
In-Game Purchases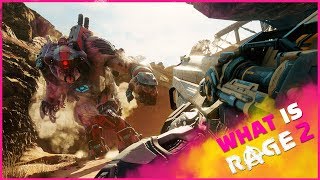 About this game
---
You will be plunged headfirst into a dystopian future without society, law, or order. RAGE 2 brings together two studio powerhouses-Avalanche Studios, masters of open world insanity, and id Software, creators of the first-person shooter -to deliver a carnival of carnage where you can go anywhere, shoot anything, and explode everything.
An asteroid has decimated 80% of the world's population and human numbers are declining. Humanity is now at a crossroads. Anarchic and bloodthirsty gangs are seen roaming the open roads while the tyrannical Authority attempts to rule with an iron fist. As Walker, the last Ranger on the wasteland you have lost everything and must now fight for justice. You will be fighting evil gangs in an open world to uncover the technology and tools necessary to overthrow The Authority's oppressive rule.
WELCOME TO THE SHOOTERVERSE

RAGE 2 is a dream team made possible by Avalanche Studios' open-world prowess and id Software's shooter pedigree. It's more that a shooter and more than an open-world game. It's a shooterverse.

THE WASTELAND AWAITS

In pursuit of The Authority, you will effortlessly travel across a wide range of landscapes: from dense jungles and treacherous swamps, to deserts that are sun-scorched. The wasteland is vast, and you have the weapons to fight for every inch.

PEDAL TO THE METAL

To speed through the badlands, you can use a range of rugged, desert-ready vehicles such as monster trucks or gyrocopters. If it looks like you can drive it, you can.

THE LAST RANGER

You can bring the pain with a variety of weapons that are upgradable, deadly Nanotrite powers and Overdrive which allows you to push your guns past their mechanical limits.

FACTIONS & FOES

Fight against the evil factions seeking to take control of the wasteland. Each includes a rogue's gallery of madmen and mutants as well as monsters thirsty for blood.
---

Incredible gun play and combat that is only held back by an average story and world, still a fun romp though.

---
---
OS:
Win7, 8.1, or 10 (64-Bit versions)
Processor:
Intel Core i5-3570 or AMD Ryzen 3 1300X
Storage:
50 GB available space
Graphics:
Nvidia GTX 780 3GB or AMD R9 280 3GB
OS:
Win7, 8.1, or 10 (64-Bit versions)
Processor:
Intel Core i7-4770 or AMD Ryzen 5 1600X
Storage:
50 GB available space
Graphics:
Nvidia GTX 1070 8GB or AMD Vega 56 8GB
---
Once you receive the activation key it can then be redeemed using the Bethesda launcher. Please follow the instructions below if you need help with activating a Bethesda.net product.
Go to: https://bethesda.net/en/dashboard and download the Bethesda Launcher if you do not have it installed.
Install and start the launcher application, login with your Account name and Password, create an account if you don't have one.
Click on the top left corner of the Launcher and then on "Redeem Code".
Enter your code and click "Redeem".
© 2018 Bethesda Softworks LLC, a ZeniMax Media company. Developed in association with Avalanche Studios, trading as Fatalist Entertainment AB. Bethesda, Bethesda Softworks, ZeniMax and related logos are registered trademarks or trademarks of ZeniMax Media Inc. in the U.S. and/or other countries. RAGE, id, id Software and related logos are registered trademarks or trademarks of id Software LLC in the U.S. and/or other countries. All Rights Reserved.